! ---------------------------------------> <! --------------------------------------->
MOS KIM-1

Released:
1976
Price:
US $245
CPU:
MOS 6502, 1MHz
RAM:
1024 bytes
Display:
6 digital LED display
Input:
on-board hexadecimal keypad
Ports:
edge connector with-
30 digital I/O lines
Storage:
optional cassette recorder
OS:
machine code (HEX)




The KIM-1 (Keyboard Input Monitor) microcomputer is the grand-daddy of all 6502 microprocessors systems.

It was originally created by MOS Technology, the inventor of the 6502 microprocessor, as a way to demonstrate the power of the 6502 to the industrial community.

MOS was very surprised at the KIM-1's popularity with the hobbiest. Its main strengths were that it had lots of users and programs, and a lot had been published about it. Its weakness is in its limited on-board capabilities - only 1K of user RAM, no EPROM, and a good but limited Monitor program.

The KIM-1 consists of a single circuit board with no case or power supply, these you supply yourself. In university laboratories the system has been used for experiment control and data acquisition.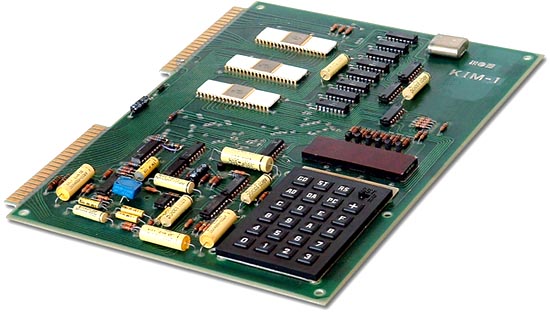 A serial teletype/teleprinter can be used through the 20mA (or 60mA) current-loop. This was a common form of communications (for teletypes) in the 70's, but it is pretty rare now days.

An ASCII terminal or video monitor could also be used through the serial port.

Data could be stored on a cassette recorder, or paper-tape reader - another abandoned technology.

Commodore eventually purchased MOS Technologies, and shortly released a KIM-1 that had the Commodore name attached, as seen below.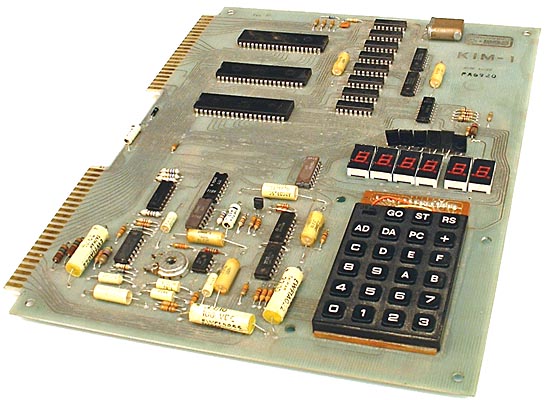 ---

The KIN microcomputer -- (kin to KIM)

---
KIM-1 microcomputer
These pages show computer work done on Black Jack strategies and Roulette prediction. © 2013 by @Com